Original Pastel Portraits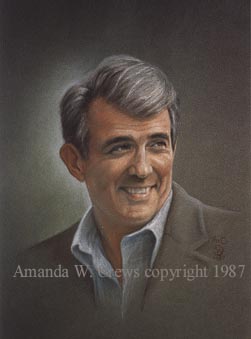 "Bill V."
by Amanda W. Crews
© 1987, 2015
Artist's Pastel on Archival Pastel Paper,
16" x 20",
Private Collection.
To see more
Original Pastel Portraits,
click on the graphic above,
or click on
"PORTRAITS"
in the column at left.
IMPORTANT NOTICE TO OUR VISITORS:
Due to unfortunate circumstances beyond our control,
the Leaping Princess Studios Gift Shop is currently
CLOSED.

We regret that we are currently NOT able to offer
Note Cards, Prints, T-shirts, Tote Bags and Aprons.
Our current plans are to create a sale page on this site
to offer some of the small inventory we have in stock.
Please bear with us as we build this page for you.
For more information, see our FAQ :

If you don't find your answer there,
use our Contact Page to reach us: